"Group meditation is a castle that protects the new spiritual aspirants as well as the veteran meditators. Meditating together increases the degree of Self-realization of each member of the group by the law of invisible vibratory exchange of group magnetism."

— Paramahansa Yogananda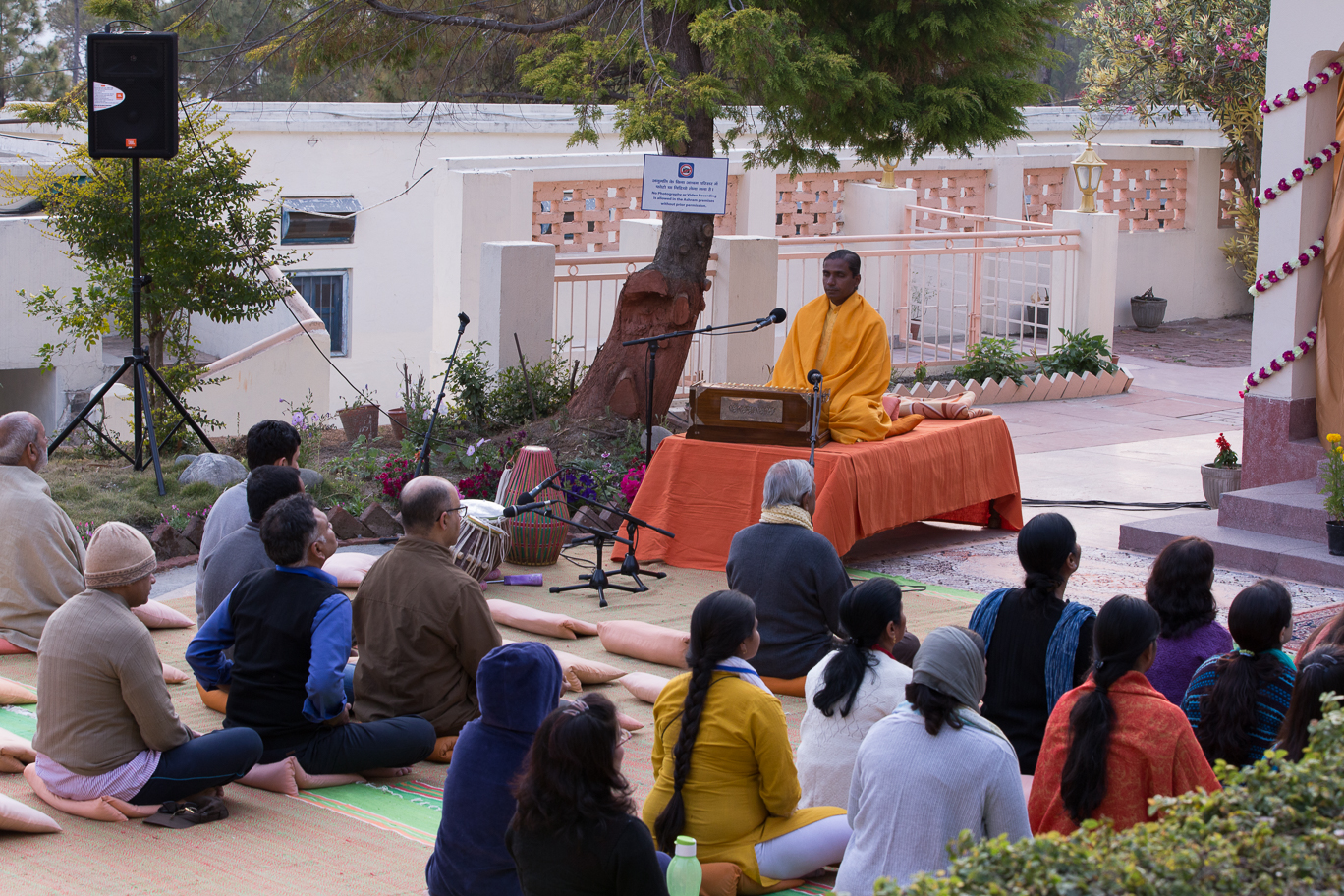 ---
Group Meditation Timings (March 1 to October 31)
Daily (Except Thu & Sun)

7.00 am -- 8 am

5.30 pm – 7 pm

Thursday and Sunday

5 pm – 8 pm

Sunday Satsanga*

10 am – 11.30 am
Group Meditation Timings (November 1 to February 28)
| | |
| --- | --- |
| Daily (Except Thu & Sun) | 5 pm – 6.30 pm |
| Thursday and Sunday | 4 pm – 7 pm |
| Sunday Satsanga* | 10 am – 11.30 am |
*Every Sunday satsanga at YSS Dwarahat Ashram (from 10 a.m. to 11:30 a.m.) includes chanting, meditation and spiritual discourse followed by Guru Langar. Mostly these are conducted by monastics.
Group Meditation Guidelines
For a Group Meditation to be successful, we should ask ourselves - "What can I do to avoid distracting others?"
Please arrive on-time. Once the session starts, entering into the hall may disturb meditation of fellow devotees.
Switch-off all electronic devices. Even in silent mode, an alarm may get triggered and inflict bad karma upon us.
If you have cough or cold or any other condition that creates noise, please meditate in your room. If you suddenly start coughing during group meditation, please go outside the hall to recover. You may continue meditation in your room or join the group meditation during the next chanting period.
Adjust your meditation stand's height before meditation begins and avoid bringing noise creating items such as plastic into the hall.
Please go to the restroom during chanting periods only. Gentle stretching can also be done during chanting.
There is no talking to anyone or making sounds during meditation. Kriya should be practiced silently so that it is inaudible to others.
Avoid wearing strong perfumes.