Dwarahat is a small town in Almora district in the Kumaon region of the state of Uttrakhand in northern India. It has an average altitude of 5000 ft (1500 m). The climate is cool all round the year and is especially cold in the winter months (November to February).
">Click to see in Google Maps">→
Dwarahat is connected by road from Kathgodam. And Kathgodam can be reached from most major cities by rail and road. There is also a small airport in Pant Nagar which has a single service every day and is known to get cancelled frequently due to inclement weather.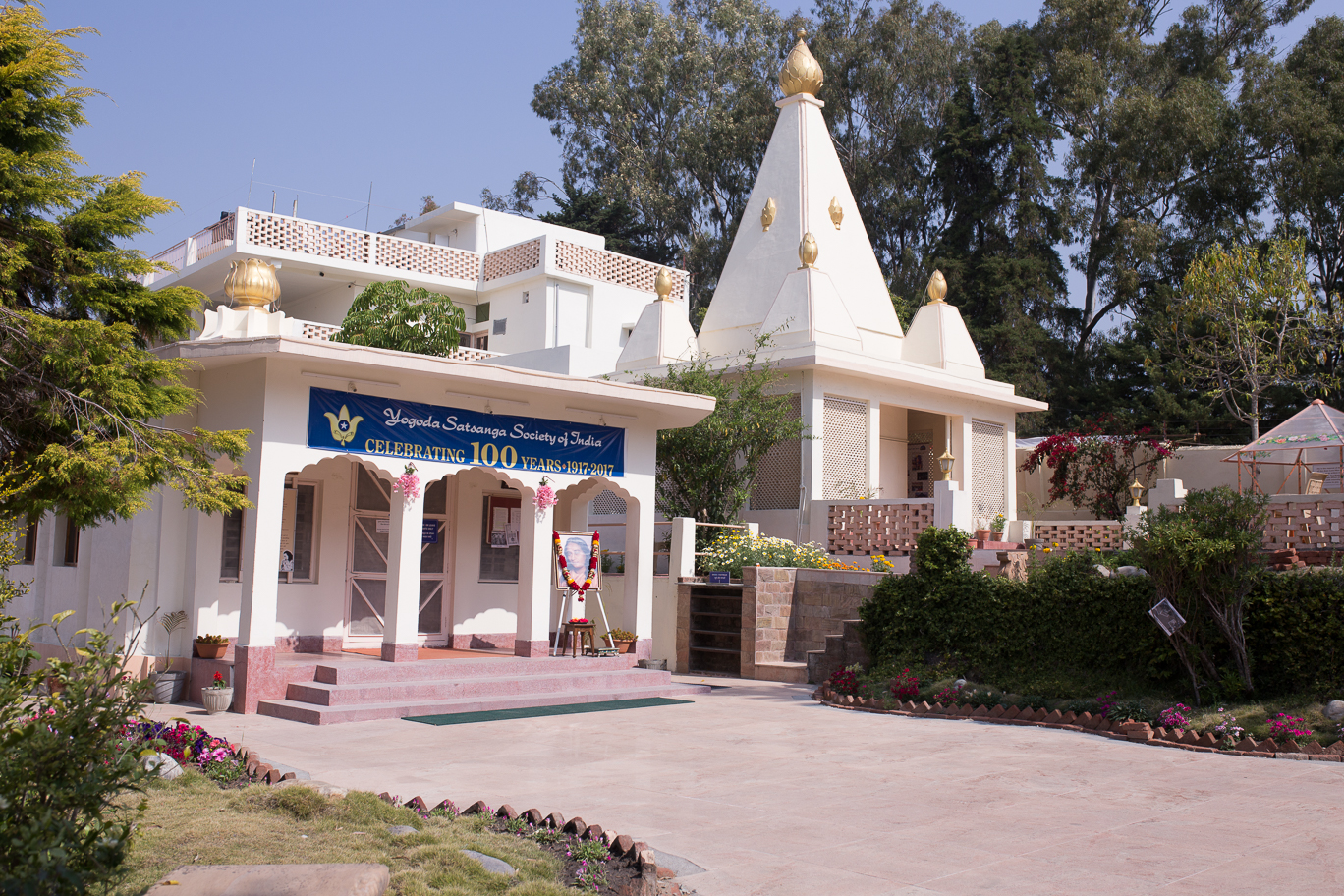 An ashram of the Yogoda Satsanga Society of India (YSS) is located about 1.5 km from Dwarahat town. It is surrounded by a pine forest on all sides. On the way from the town to the Ashram, to the right is the Government Rest House where Sri Daya Mataji had stayed during her visit to the cave of Mahavatar Babaji in 1963-64 as the YSS ashram had not been built then.
By Road
Dwarahat is connected to various cities in North India by road. Situated at a distance of about 400 km from Delhi, 475 km from Lucknow, 450 km from Dehradun, 375 km from Haridwar, and 38 km from Ranikhet, the convenient route for YSS/SRF devotees from India and other countries is to reach Dwarahat via Delhi.
By Rail
To reach Dwarahat from Delhi, take one of the three trains to Kathgodam at the foot of the Himalayas. These are:
Train number 12040 - Kathgodam Shatabdi Express, leaves New Delhi station at 6:20 am, arrives Kathgodam at 11:55 am

Train number 15035 Sampark Kranti Express leaves Old Delhi station at 4 pm, arrives Kathgodam at 10:45 pm

Train number 15013 Ranikhet Express runs from Jaisalmer to Kathgodam via Jaipur and Delhi. It leaves Delhi Cantt at 8 pm and reaches Kathgodam at 5 am. This is a sleeper train.
Kathgodam to Dwarahat
Further travel from Kathgodam to the ashram is by road. The easiest way to reach Dwarahat from Kathgodam is to take a private taxi. Taxis from the Kathgodam station taxi stand usually charge INR 2500-3500. Dwarahat ashram reception can refer you to known drivers who bring devotees to Dwarahat.
Shared taxis to Ranikhet are also available for less. You will need to change to another shared taxi at Ranikhet to reach Dwarahat. There also are several buses daily between Kathgodam and Ranikhet, which is the least expensive option but takes much longer.
How to Reach Mahavatar Babaji's Cave
Most visitors arrange for a trip to Mahavatar Babaji's Cave leaving Dwarahat at 9:30 a.m. (information regarding hotels in Dwarahat area is available online). This may include a hired taxi to take you to the start of the trail up to the cave. We usually recommend that you hire a separate Bolero taxi (or any 4x4 vehicle) as most cars are unable to manage the last stretch (2 kilometres) on the rough road that leads to the point where the trail begins. The trail to Babaji's Cave is uphill and usually takes about an hour.
Carrying a packed lunch with you is recommended.
Some hotels available in Dwarahat (others can be found on the net):
Contact Us
Yogoda Satsanga Sakha Ashram - Dwarahat
DWARAHAT – 263653
Dist. Almora, Uttarakhand
Phones: 9756082167, 9411708541
Office hours: 8:30 am - 4:30 pm
E-mail: [email protected]