Dwarahat is a small town perched in the Kumaon hills of Almora district in the state of Uttarakhand. Located at an altitude of about 5000 ft (1500 m), it remains cool throughout the year except in the winter months when it is cold (November to February).
">Click to see in Google Maps">→
Dwarahat is connected by road from Kathgodam, which can be reached from most of the major cities of India by rail and road. There is also a small airport at Pant Nagar (about 30 km from Kathgodam) where regular flights operate from Delhi, Dehradun, and Pithoragarh.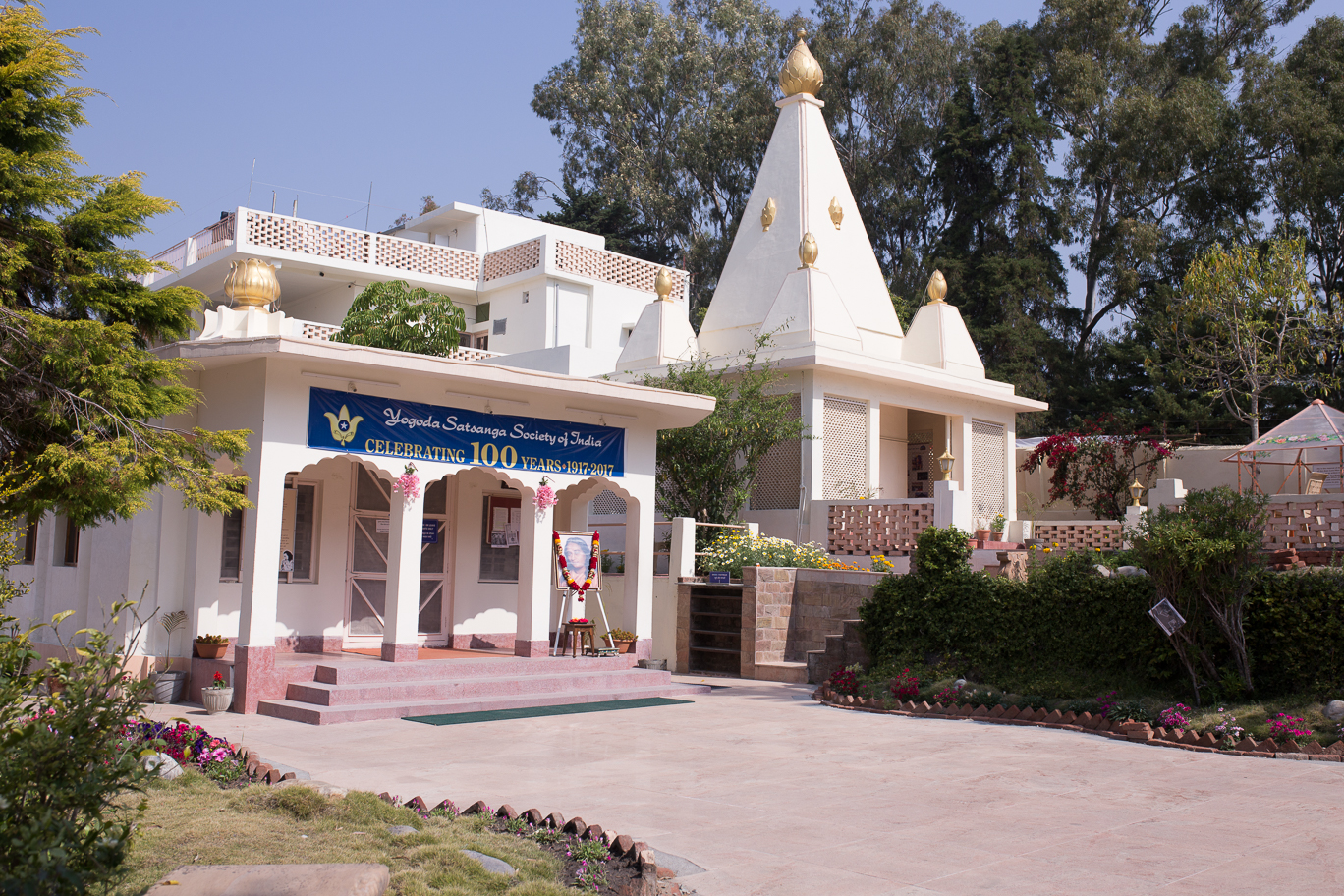 The Dwarahat Ashram, built in 1983, is located about 1.5 km from Dwarahat town. It is surrounded by pine forests. On the right side of the road that goes from Dwarahat town to the ashram is the Government Rest House where Sri Daya Mata had stayed during her visit to Mahavatar Babaji's cave in 1963-64.
By Road
Dwarahat is connected to multiple cities in the Northern part of India by road. It is situated at a distance of about 400 km from Delhi, 475 km from Lucknow, 450 km from Dehradun, 375 km from Haridwar, and 38 km from Ranikhet. The most convenient route for YSS/SRF devotees is to travel to Dwarahat via Delhi, as the connectivity is the best.
By Rail
Kathgodam is the nearest Railway terminal from Dwarahat. Train services to Kathgodam are available from Lucknow, Delhi, Kanpur, Haridwar, Kolkata, Dehradun, Jaisalmer and many other cities. Please find below a list of trains that are available from Delhi to Kathgodam:
​​​​​
Train number 12040 - Kathgodam Shatabdi Express, leaves New Delhi station at 6:00 a.m. and arrives at Kathgodam at 11:40 a.m.
Train number 15035 Sampark Kranti Express leaves Old Delhi station at 4:00 p.m. and arrives at Kathgodam at 10:45 p.m.
Train number 15013 Ranikhet Express runs from Jaisalmer to Kathgodam via Jaipur and Delhi. It leaves Delhi Cantt at 8:00 p.m. and reaches Kathgodam at 5:00 a.m. This is a sleeper train.
Kathgodam to Dwarahat
The easiest way to reach Dwarahat from Kathgodam is to hire a private taxi. Taxis from the Kathgodam Railway station usually charge 2500 to 3000 rupees for going to Dwarahat. Dwarahat Ashram reception can help you connect with other drivers who charge lower fares for the ride. Shared taxis to Ranikhet are also available which may be a cheaper option. However, after reaching the Ranikhet taxi stand, you will need to change to another shared taxi to reach Dwarahat. Daily bus services are also available between Kathgodam and Ranikhet. Though this is the least expensive option, the travel time is much longer.
How to Reach Mahavatar Babaji's Cave
Visit to the sacred cave where Mahavatar Babaji had initiated Lahiri Mahasaya into Kriya Yoga is a must in the itinerary of every devotee visiting Dwarahat on a pilgrimage. Visitors generally leave Dwarahat by 9:00 a.m. for Kukuchina village on the Dunagiri mountains. From here, one has to take the kutcha road that connects Kukuchina to Rathkhal village and walk/drive for another 2 kms to reach the point where the trail going up to Babaji's cave starts. The trek to the cave is a little steep and takes about an hour. The entire trip from Dwarahat to the cave and back takes around five hours and it is recommended that you carry packed lunch. To save time, it is advised to hire a cab from Dwarahat to take you to the base of the trail on Kukuchina Rathkhal road (from where one has to climb on foot to reach the cave). We usually recommend that you hire a separate Bolero taxi (or any 4x4 vehicle) as most cars are unable to manage the last stretch (2 km) on the rough road that leads to the point where the trail begins. The work for the upgradation of the last 2 km of the road will commence shortly.
Hotels available in Dwarahat and Dunagiri:
Some hotels available in Dwarahat (others can be found on the net):
AT DUNAGIRI
Vanaprastha Resorts (1 km from the cave)- P.O. Dunagiri, Village Rathkhal, Dwarahat, Uttarakhand 263653, Email: [email protected], Website: vanprastharesorts.com (Contact Number: +91 9458968627, 9650102777)
Joshi Lodge, Kukuchina (4 kms from the cave). (Contact Number: 9411318540)
AT DWARAHAT
Hotel Mayank - [email protected] (Contact number: 9411113228)
Ganpati Banquet Hall, Tahsil Rd, Dwarahat, Uttarakhand 263653, Email: [email protected] (Contact Numbers: 94124-77768, 87554-30665, 97562-32525)