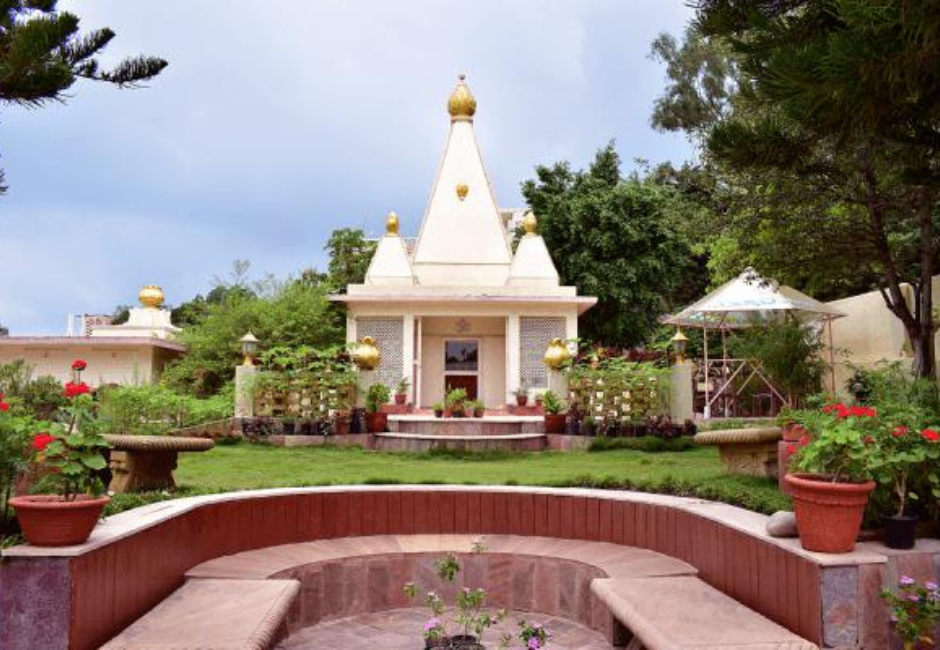 YSS Dwarahat Ashram will host a three-day spiritual programme from September 30 to October 2, 2023, to celebrate the Avirbhav Divas of Sri Sri Lahiri Mahasaya. Kriya Yoga diksha will be conducted on October 2. This programme is open for YSS devotees from across India who can come to the Himalayan town for a retreat away from the rigours of daily life.
This programme provides devotees with an opportunity not only for spiritual rejuvenation but also for improving their understanding and practice of Paramahansa Yogananda's teachings and meditation techniques. Participants also get an opportunity to join fellow devotees in technique review classes, group meditations, inspirational discourses, and kirtan.
Review of YSS Meditation Techniques:
During the Sadhana Sangam, participants can attend review classes on the Yogoda Satsanga meditation techniques — the Energization Exercises, Hong-Sau Technique of Concentration, and the Aum Technique of Meditation. YSS sannyasis will conduct classes on these powerful techniques, which are integral to the science of Kriya Yoga taught by Paramahansa Yogananda.
(Please note that the Sadhana Sangam is open to YSS Lessons students only.)
Receiving Kriya Yoga Diksha:
YSS sannaysis will conduct the Kriya Yoga diksha ceremony to initiate eligible devotees. Details regarding eligibility and participation are mentioned below:
Eligibility to receive Kriya Yoga:
Eligibility for receiving the Kriya Yoga diksha is dependent upon the submission of satisfactory answers to the questionnaire enclosed with the YSS Lessons.
As you will note in the questionnaire, to be eligible for receiving Kriya Yoga, the devotee must have been regularly practising the first three basic Yogoda techniques for several months.
You must also submit the signed Kriya Yoga Pledge of devotion and loyalty to the YSS line of Gurus and the Yogoda Satsanga path.
Please note:
If you wish to apply for Kriya Yoga, and have not yet sent your answers to the questionnaire, they may be submitted at the Dwarahat ashram while you're attending the programme, to be checked by the sannyasis.
If you have already sent these to Ranchi and received approval for Kriya Yoga in writing, please take that letter of approval with you for registering at Dwarahat ashram.
Participation in the Kriya Yoga Diksha Ceremony:
All who wish to receive Kriya Yoga diksha at the ceremony, including those who have received the Kriya Yoga Lessons but have not participated in a ceremony; and also, those Kriyabans who have received formal diksha but wish to attend the ceremony will need to register at the Dwarahat ashram at least a day in advance, and bring the required admittance card to the ceremony.
Please bring and show your Kriyaban Identification Card when registering yourself for Kriya Yoga diksha and also when attending the review.
Registration and Other Information:
Registration for the Sadhana Sangam programme at YSS Dwarahat Ashram will be open from May 1 to 15, 2023 on a first-come-first-served basis.
For registration and more information regarding this programme, please use the contact details shared below:
Yogoda Satsanga Sakha Ashram - Dwarahat
DWARAHAT – 263653
Dist. Almora, Uttarakhand
Phones: 9756082167, 9411708541
Office hours: 8:30 a.m. - 4:30 p.m.
E-mail: [email protected]
Please note:
Those devotees who wish to visit Mahavatar Babaji's cave should plan to stay for one extra day before or after the programme, and therefore should plan to arrive two days early or depart two days after the programme. Devotees who are above 70 years old, or below 15 years old are requested to visit the ashram at other convenient times rather than for this event.