"Whenever anyone utters with reverence the name of Babaji," Lahiri Mahasaya said, "that devotee attracts an instant spiritual blessing."
Babaji Smriti Divas is celebrated on July 25 every year in remembrance of the blessing and assurance given to Gurudeva Paramahansa Yogananda by Mahavatar Babaji. Babaji gave darshan to Guruji on this day at his 4 Garpar Road home in Kolkata, telling him "You are the one I have chosen to spread the message of Kriya Yoga in the West."
Dwarahat Ashram celebrated this occasion with a 24-hour-long meditation, Shobha Yatra to Babaji's cave, and a commemorative function.
Day-long Meditation
Celebrations of Smriti Divas began ahead of July 25, with a 24-hour-long meditation on July 21-22. Every hour began with listening to audio recordings of Gurudeva, Daya Mataji, Mrinalini Mataji, and Swami Anandamoyji, followed by singing of cosmic chants leading into meditation sessions. Devotees eagerly participated in this special meditation that gave a spiritual prelude to Smriti Divas.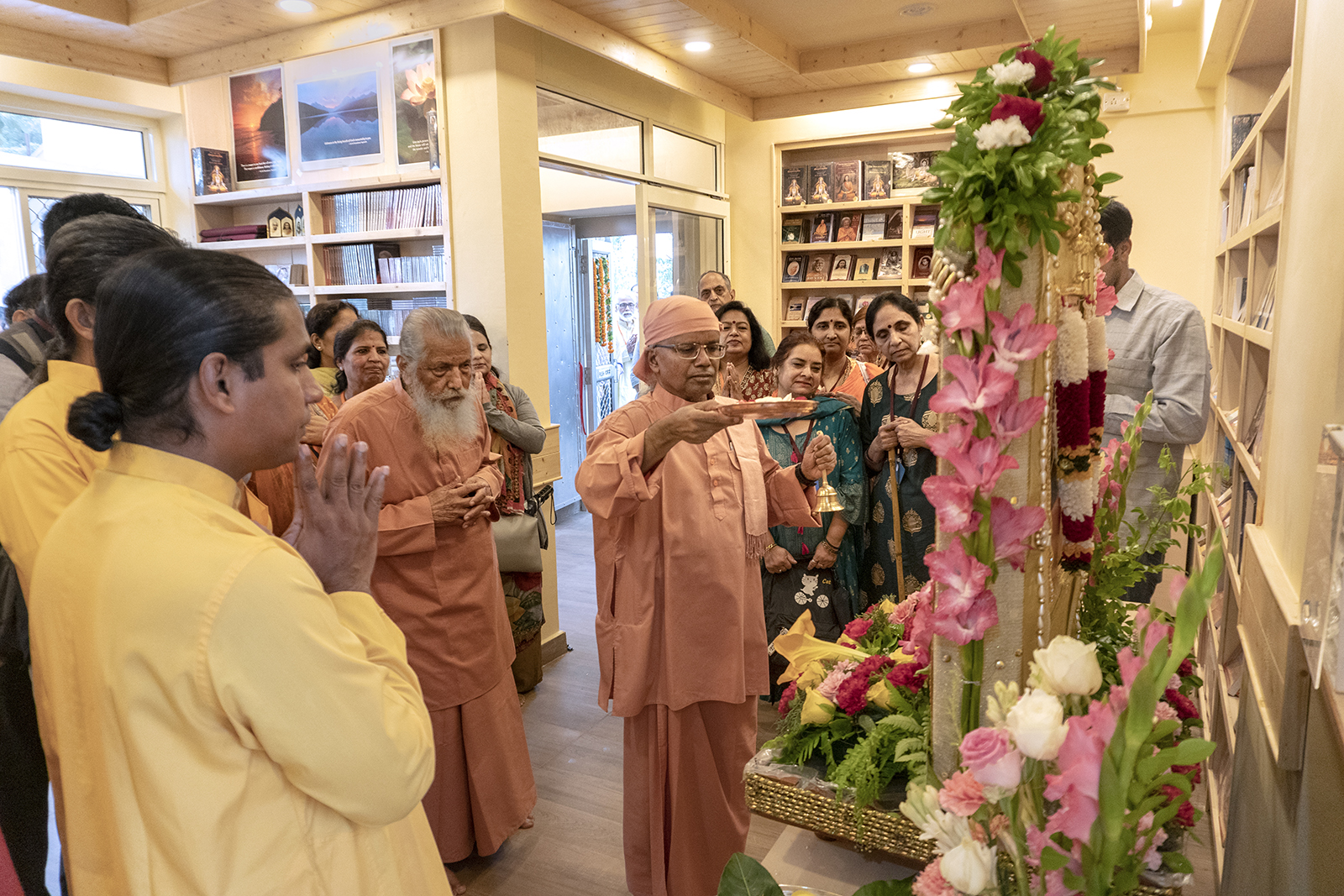 Inauguration of New Reception Building
On the morning of July 25, a new reception building was inaugurated at YSS Dwarahat Ashram by Swami Nityananda. Swami Lalitananda performed arati on this occasion and opened the recently-completed reception block with a book room facility.
ShobhaYatra to Babaji's Cave
A Shobha Yatra (procession) with Mahavatar Babaji's decorated palki was taken out through the streets of Dwarahat, and further to the Cave, amidst jaikaras and devotional kirtans by devotees. YSS sannyasis led this procession, followed by students from Yogoda Balkrishnalaya and nearly 300 devotees.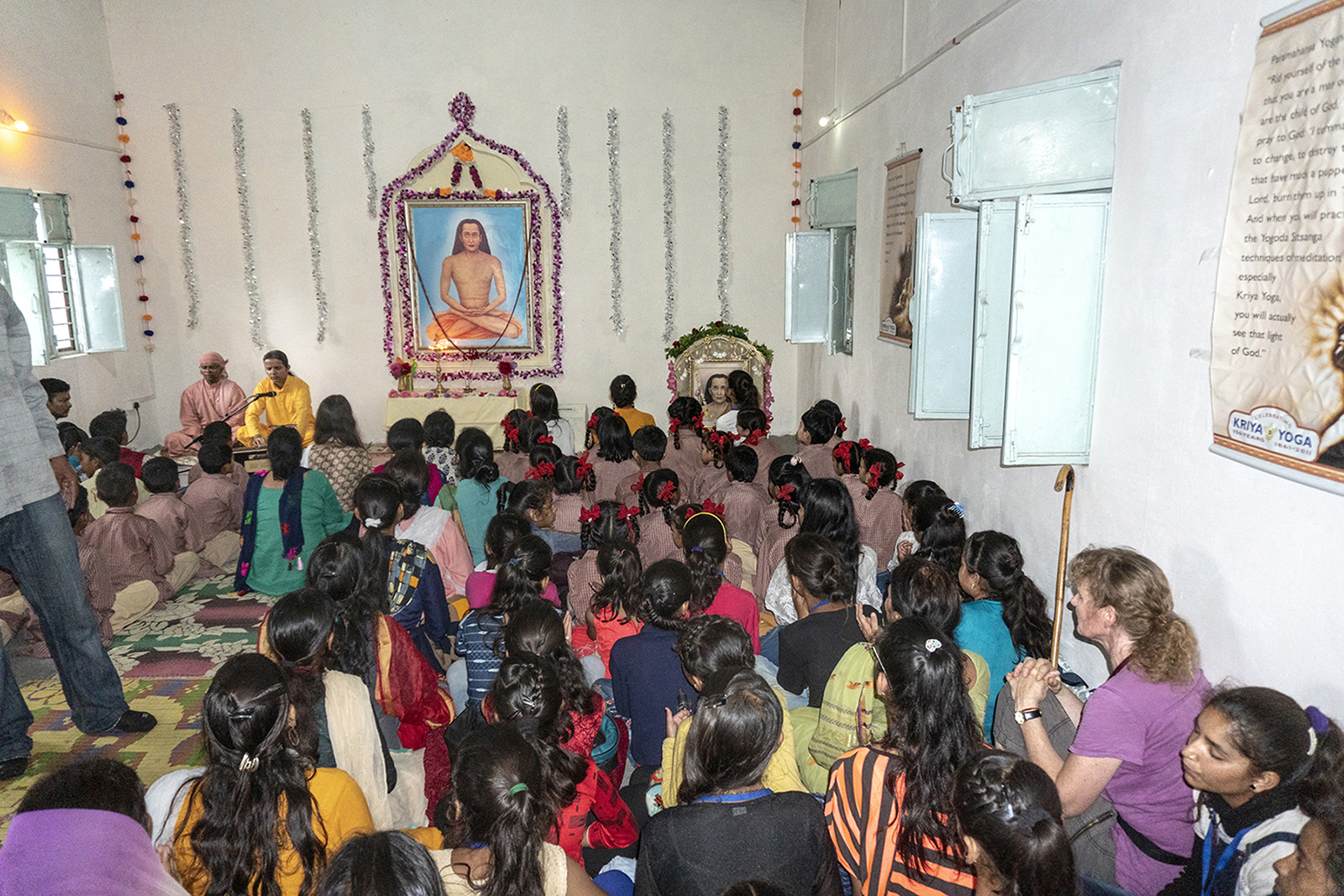 Proceeding to the hamlet of Kukuchina in a convoy of vehicles, the Shobha Yatra finally reached Babaji's Cave. Devotees participated in kirtan at the Babaji Smriti Bhavan situated near the cave, as small groups kept going to the cave for meditation. Everyone was then served food. Even after the entourage left the venue, the Bhandara continued for around 300 local devotees — some from Pandukholi, and others from as far as Suraikhet, a town situated around 50 kms away.
Programme at Dwarahat Ashram
On returning to the ashram, devotees attended the concluding programme of the day — a special meditation led by Swami Lalitananda which included chanting, meditation and a talk. This meditation was the first event to be conducted in the newly-constructed shed in the Ashram premises.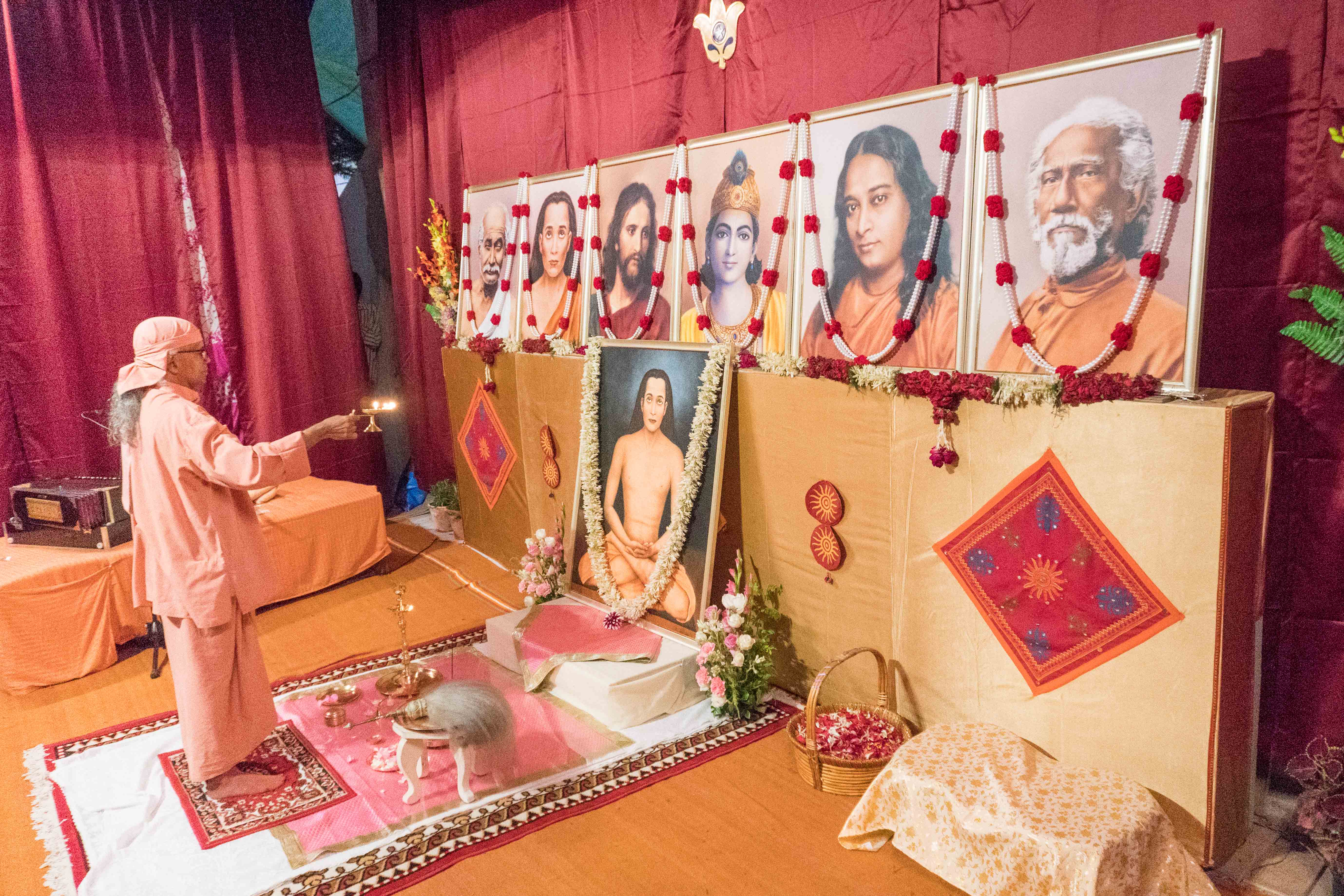 In his discourse, Swamiji read from Autobiography of a Yogi, in which Guruji had described his sacred experience of meeting Babaji, and said it was through Guruji's Autobiography that the world first came to know of Mahavatar Babaji. Swamiji also mentioned how Babaji, through Lahiri Mahasaya, is the one and only source of the Science of Kriya Yoga, as given to the world in its present form.
The day concluded by arati and pushpanjali. Brahmachari Nirliptananda chanted devotional kirtan as devotees came forward to offer their devotion at the altar. A meal was served to all participants. All the devotees felt spiritually uplifted perceiving the tangible blessings of Sri Sri Mahavatar Babaji on this blessed day.